SSL Discounted Pricing Matrix for Resellers
Resell Instant SSL Certificates!
How the Program Works
Opening a Reseller Account gives you access to the Reseller Management area - a web based console to manage your central funds and certificate applications from your customers.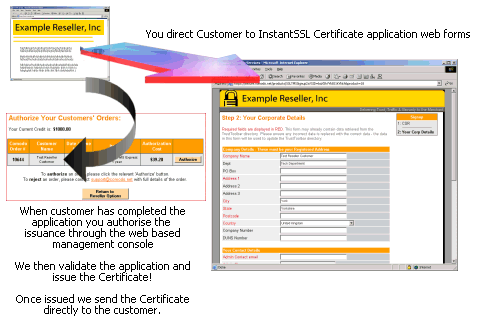 Resellers are provided with a portfolio of feeds to direct customers into the Instant SSL application process. The entire application is branded with your corporate banner and company name.
The Reseller Program allows you to take payment for an Instant SSL sale. This ensures that your sales processes are completely unaffected by the inclusion of Instant SSL into your product family.
All Certificate sales are detailed in the Reseller Management area - a central location for you to approve / reject pending applications. You do not need to be involved in the administration of the Certificate issuance process, this is addressed by the Instant SSL team.
Upon successful validation of the application the pending Certificate will be issued. Your Reseller Account will be debited with the value of the certificate (based on the banding level you have been awarded).
Resellers always have a selection of promotional material available to help with your Instant SSL branding and campaigns.
Quick Support Resources
Featured Clients